Drum-roll, everybody…. The time has come to share with you the cover and official synopsis for UNTOUCHED, the prequel novel set the summer Juliet and Emerson first meet!
Ta da!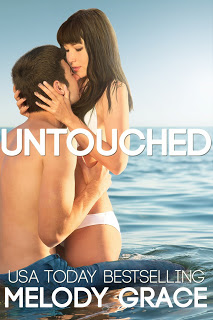 Emerson Ray is trouble. Juliet knows it the minute she lays eyes on Cedar Cove's resident bad boy. Forced to spend her summer before college in the sleepy beach town, she never expected to crash into the most devastating guy she's ever met—or for Emerson's blue eyes to strip through her dark secrets, and make her feel a desire she's never known. Their connection is undeniable, but Juliet is torn. She knows, once she gives him everything, there'll be no turning back.
Juliet McKenzie is dangerous. Emerson can tell from the way she blows through all his defences, laying bare the demons he's carried alone all his life. He's left a trail of broken hearts and empty beds in his wake, but Juliet is different. Her innocence is intoxicating—and the passion she keeps hidden, just below the surface. He wants to be the only one to set it free, but with every kiss, he's closer to losing control and doing the one thing he swore he never would: fall in love.
One summer. Two damaged hearts. Their story is only just beginning…
And if that wasn't enough, I'm also running a competition to win one of 3 advance e-copies of UNTOUCHED! Just enter via the rafflecopter link, and be sure to retweet and post to increase your chances to win.
http://t.co/AaUMn5WhkV
What do you think?
xo
Melody