So I wake up this morning to find this happened: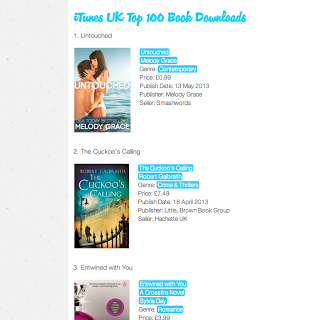 UNTOUCHED IS NUMBER ONE IN THE UK!!
*freaks the heck out*
This is so amazing, I can't thank all my British fans enough! To see my name up there with Sylvia Day and JK Rowling and Gillian Flynn and all the other amazing authors in the charts… it's a dream come true, and I'm so grateful for every minute of it!
*hugs and kisses THE WORLD*
OK, I'm off to eat celebration pancakes and dance around my living room some more.
Xo
Melody