You remember the store-room at Jimmy's bar? It was the site of some pretty steamy stuff for Emerson and Juliet in Unbroken, and I couldn't resist returning to the scene of the crime in Unafraid. It's only fair that Brit gets to enjoy the dark, secluded spot too… 😉
Here's an excerpt from Unafraid. I hope you enjoy it! Remember to add the book on good-reads http://www.goodreads.com/book/show/18039804-unafraid and stay tuned for some great giveaways!
xo
Melody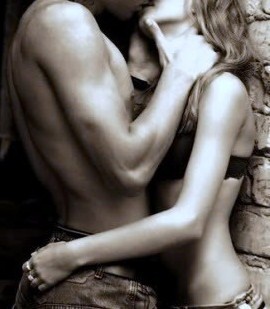 "Who ordered the cheeseburger?"
I call across to Jade, when the plate's been sitting untouched on the hatch for
five minutes. "Because they better want it cold, with a side of soggy fries."
She
waves absently. "The guy at the bar."
"That's
me. Behind you," he adds helpfully, as if I haven't just clocked Hunter sitting
at the end of the bar, one hand wrapped around a bottle of beer.
My heart
leaps. Of course he's shown up here. That man doesn't know when to quit.
I slam
the plate down in front of him. He takes one look and winces. "Damn, darlin'. I
know you're trying to chase me off, but messing with a man's burger? That's
just low."
I shrug,
but my pulse is racing. Even in the dim lights of Jimmy's, with bad rock music
on the jukebox, and peanut shells on the floor, Hunter looks like he's stepped
off a yacht—six foot two of tanned, preppy gorgeous.
Don't forget 'way out of your league.'
"Feel
free to go someplace else." I tell him, turning my glare all the way up. I've
sent guys running with this stare: prize street fighters and burly dock workers
all wilting under my wrath.
But
Hunter doesn't flinch.
"Nah, I
like the service here. It's so… unpredictable." He reaches for a fry, and I
can't stop my gaze following the elegant line of his forearm: all tanned sinew,
dusted with golden hair.
I stifle
a sigh. He may be driving me crazy with irritation right now, but Hunter's body
is a work of art. At least, it was when he was nineteen.
And
now…?
"I work
here," I remind him, snapping out of my haze.
"I'm
not stopping you." He grins. "I think that couple in the corner are ready to
order."
I turn.
They're gesturing to me, looking annoyed. "There goes my tip." I grumble, going
over to deal with them, but when I return, Hunter is exactly where I left
him—except now he's talking up a storm with Garrett.
"Your
buddy here says you've got the day off Monday," Hunter gives me a teasing grin.
"How about that date then?"
"Traitor."
I hiss at Garrett.
"What?"
Garrett protests, "You do. I'm not going to lie for you."
"Some
buddy."
I join
him behind the bar to pour some sodas, but Hunter is still watching me, too
close for comfort. "Can I get you anything?" I spit, sarcastically.
"Just a
date." Hunter grins, "I'll leave the rest up to you. I bet you've got some
things you'd like to do…"
I fumble
under his gaze, and spill soda all over my shirt. "Now look what you've made me
do!" I exclaim, frustrated. I don't stick around to hear his protests of
innocence; I storm away, down the hallway and into the storeroom, where I know
I've stashed a couple of spare tanks for emergencies like this.
I strip off my damp shirt, cheeks hot with
embarrassment. How am I supposed to focus on anything with him there, just… watching me? Every move the man makes,
it's like he's some designer ad campaign come to life, so relaxed and easy, and
meanwhile I'm acting like the stupid klutz, yelling at people and spilling
stuff everywhere because I can't stay cool knowing he's in the building.
Damn
him, and his endless confidence.
"Brit?" The door opens, and before I can grab
another shirt, Hunter steps inside the small room.
Aaaand… that's all you're getting 😉 August 27th, baby!