Hey guys,
So, you might have noticed that WITH EVERY HEARTBEAT has a delicious, drool-worthy new look. I've been blown away by all the great reactions and amazing reviews this book has been getting; it's more than I ever dreamed. One thing that kept coming up in readers' comments and emails was that the cover didn't reflect the passion and intensity of Raphael and Annalise's relationship. This is a sexy, powerful book, and we realized that the original cover (while gorgeous) didn't convey the wild ride you were in for.
So, I went looking for something new, and let me tell you, when I saw this photo, I knew I couldn't resist! I'm so excited to share this new cover with you, it's super-hot and ab-tastic, everything that a sexy Italian guy like Raphael deserves 😉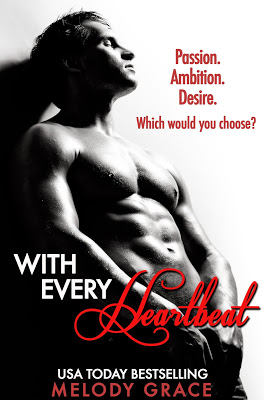 Passion. Ambition. Desire. Which would you choose?

I thought I knew what I wanted in life. I thought my destiny was set. Then I met him, and everything changed.

Raphael is bold, passionate, and seductive. He sees something in me I never dreamed possible, and now he's determined to show me a world beyond rules — a dance without limits. I want to trust him, but I'm scared. Because I know once I fall, there'll be no going back.

An innocent dancer. A mysterious stranger. As Annalise is drawn deeper into the sensual delights of Rome, she'll question everything she believed about her future. But with opening night looming, can she find the strength to risk it all? And will she be forced to choose between her one true love, ballet, and the new passion in her heart?

Find out in this intoxicating new series from the USA Today & international bestselling author of UNBROKEN, Melody Grace.
**This book contains explicit material and adult scenes. 17+**
—
I'm having a big blow-out party today (Thursday) celebrate the relaunch, and I hope you'll join me! I'll be posting sexy teaser pics throughout the day so tweet, share, post, and spread the love around. I'm also running a fab contest to win naming rights over a character in the next Cities of Love book; that's right, you can have your name immortalized as an awesome character in print!
I hope you love the new cover. Check out your copy today!
xo
Melody