It's so exciting… Unwrapped is now live and available to buy!
Yay!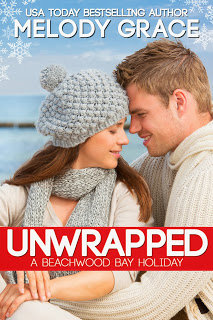 You are invited to join friends and family in Beachwood Bay for the wedding of the year…

Lacey James is wild, spontaneous and up for anything.
Daniel Sullivan is careful, sensible, and mending his broken heart.

It's a match nobody saw coming, but when the unlikely pair get stranded together on the way home for the holidays, Lacey finds her long-term crush impossible to ignore. As the snow keeps falling, and a friendly game of truth or dare gets way out of control, Daniel discovers that the one girl he wants more than anything is the last person he expected.

But when the snow melts, will their night together be more than just a memory? And will they make it to Beachwood Bay in time for the wedding? Anything can happen this holiday season!
Amazon US: http://www.amazon.com/Unwrapped-Beachwood-Bay-Melody-Grace-ebook/dp/B00H7K5UB0/
Amazon UK: http://www.amazon.co.uk/Unwrapped-Beachwood-Bay-Melody-Grace-ebook/dp/B00H7K5UB0
Barnes & Noble: http://www.barnesandnoble.com/w/unwrapped-melody-grace/1117587764
iTunes: https://itunes.apple.com/us/book/unwrapped/id772166745?mt=11
Click for your copy today!
xo
Melody