I've been blown away by the response to HEARTBREAKER, and the #1 question from readers has been 'Will we see more from Eva and Finn?' Well, I can finally announce that YES, you will!
HEARTBEATS, the Heartbreaker prequel story, will be published on May 11th!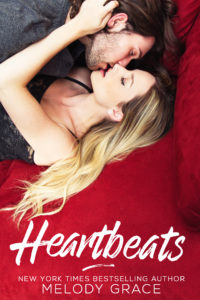 Writing a second-chance love story like Heartbreaker, it was a battle to tell Eva and Finn's whole past and present in just one book. I always felt like the journey of how they met and fell in love deserves its own story, and I'm so excited to share that story with you!
HEARTBEATS will be a novella, priced at just 99c, and will share the beginning of this epic love story. I can't wait for you to read it!
The pre-order is available now on iBooks, and HEARTBEATS will be published on all platforms to purchase May 11th.
iBooks: http://apple.co/1SZkWSt
OFFICIAL BLURB:
Can one moment change your life forever?
For Eva Carmichael, it's the second she lays eyes on Oak Harbor's troubled bad boy, Finn McKay. He's bold and reckless, and leaves a trail of broken hearts in his wake. She should stay away, but she soon discovers they have more in common than she ever dreamed. They're both living with painful secrets, and a true self they keep hidden, not letting anyone in – until she takes a leap and risks it all…
Finn knows Eva is too good to be true. He's been counting down to the day he can turn his back on Oak Harbor for good, and finally escape all the dark, painful shadows of his past. But this girl is impossible to ignore. Her smile makes him forget himself, and just one kiss could redeem it all. He's determined not to fall, but then one night changes everything…
Two unlikely hearts. One intoxicating romance. This epic love story is only just beginning.
** Heartbeats is a novella story set before the events of Heartbreaker. Both books are written as stand-alone stories, so you can enjoy them in whichever order you like. **
Heartbreaker (available now!): Amazon: http://amzn.to/1RGpQng
Amazon UK: http://amzn.to/25r0XmF
iBooks: http://apple.co/1MqyB5L
B&N: http://bit.ly/21P3Ysr
Kobo: http://bit.ly/1REk88o
Google Play: http://bit.ly/1pNpmTq