Happy release day! I'M YOURS is live… and it's the cosy, swoon-worthy holiday romance you've been waiting for 
🙂 Mackenzie is one of my favorite characters in Sweetbriar Cove, and I knew she deserved the love story of a lifetime… One-click your copy today!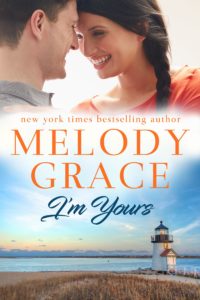 Amazon: http://amzn.to/2x1774t
Amazon UK: http://amzn.to/2iCXm6f
Amazon AU: http://amzn.to/2yXKr5d
iBooks: http://apple.co/2iFjLQk
B&N: http://bit.ly/2ynLuMz
Kobo: http://bit.ly/2zoW5XN
GooglePlay: http://bit.ly/2zXHOgN
Artist Mackenzie Lane is almost thirty and still single, which, according to her neighbors, pretty much makes her the Spinster of Sweetbriar Cove. She's sworn off terrible fix-ups, and is looking forward to her solo future of woolly mumus and cats. (Lots of cats). But a chance Halloween rendezvous awakens her reckless spirit, and makes her wonder if love might be in the cards, after all…
Jake Sullivan is back in town for the first time in years, recovering from a career-ending sports injury. He's dazzled by the mysterious woman he meets by chance – and even more intrigued when he discovers it's his high-school friend Mackenzie.
Ten years ago, Jake was the first (and only) guy to put a dent in Mackenzie's invincible heart. She's determined not to make the same mistake again, but when the pair are forced to team up to plan the annual Starbright Festival, old sparks fly – and new passion runs riot.
Soon, Mackenzie and Jake are risking it all. But will their connection last longer than the first snowfall? And can these old friends start a new chapter for love? Find out in the sizzling, romantic new novel from New York Times bestselling author Melody Grace!